The benefits of billboard advertising can not be overemphasized, Read on to discover 7 amazing benefits why you need to be advertising on Billboard.
There are many methods of advertising in our world today. But the billboard advertising continues to maintain relevance.
Billboard advertising is an out-of-home advertising medium through which companies reach out to their target audience within a targeted area.
It adds dynamic elements that ensure advertising campaigns are run successfully.
It is the perfect opportunity to reach an audience that may or not have access to the internet. But before you start your billboard advertising campaign, it is expedient that you have a campaign strategy that gives you direction on what your want to achieve. Click here to get information on how to plan your campaign
Read on to discover 7 amazing benefits of billboard advertising to your business
1. Billboard advertising can benefit your Brand Creatively
Billboard advertising offers a lot of space and freedom for you to be creative. It comes in many different forms and styles. The more creative you are, then the more memorable your ad and message will be. Utilize your creativity to stand out from competitive marketing campaigns. Aesthetics will capture their attention, and if it looks unique enough, people will spread the image as well as remember who you are.
Check it Out: LED Billboard On Third Mainland Bridge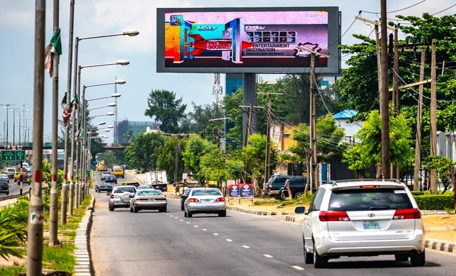 Billboard advertising guarantees you your target audience. Due to your marketing campaign's display and location, it's more difficult for consumers to ignore your ad.
Since billboards are so huge and eye-catching, people are forced to look at the sign.
Unlike digital advertisements, where people can just scroll down without ever taking a peek at your ads.
3. Billboard advertising has Different styles and types
There are different types of billboard advertising to choose from. There are digital billboards, bridge billboards, and a lot more. You can pick the billboard that will work best with your business and the people you are trying to target.
Read More: Portrait Billboard At Ikorodu Bus Stop, Lagos
The large size and placement of billboards are meant to boost the exposure of your message.
Unlike digital advertising, you can reach a broader audience through billboards. Not everyone has a technological device to get on to see ads, but billboard advertising cannot be avoided as long as the person applies the busy road.
People of all ages, gender, and races will be exposed to your billboard advertising.
You will be able to target a large and diverse market.
5. Billboard advertising can deliver your MultiMessage Advertising
Digital billboards give the opportunity to display more than two messages within your given slot. When given the opportunity, marketers want to share every positive information about their business. This includes testimonials, sales, and other informative news. Invest in digital billboards if you would want to have all the informative news about your product displayed. You will be able to create two digital ads and display both of them during your given time slot. This is just one of the benefits of billboard advertising, there is still more Below.
Read More: Gantry Billboard At Allen Round About, Ikeja, Lagos.
6. Billboard advertising can benefit your Brand in Reaching your Target Market with Less Effort
Billboards can reach a large audience at the same time with less effort. Digital media require the audience to turn to their gadgets to see the ad. For instance, in the case of social media ads, people would have to use the platform and browse to see ads that target them. Also, people don't have to spend money on subscriptions in order to see the ads. On the other hand, being an audience for a billboard doesn't require any preparations.
One of the advantages of billboard ads is their constant availability. Just look at billboard advertising examples you regularly see during your daily commute.
Chances are, you've somehow memorized some of them because you're exposed to them every day.
Read More: Portrait Billboard On Ahmodu Bello Way, Lagos Island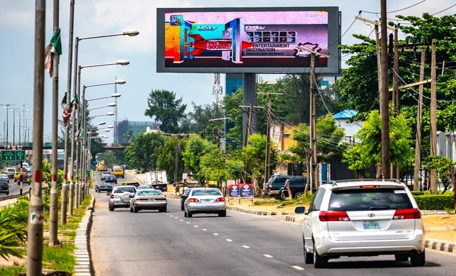 Get Strategic Locations for your billboard advertising in Nigeria
In Conclusion, While these are amazing benefits of billboard advertising, You actually need a full-service experience billboard advertising agency to actually achieve all this.
This is where outdoor advertising agencies come in, They will not only help place your ads on billboards.
But also help you to strategize on the best location, type, and craft an irresistible message.
FREQUENTLY ASKED QUESTIONS (FAQs)
What does it cost to advertise on a billboard?
The cost of advertising on a billboard varies. They depend on the size, shape, and location of the billboard. Digital billboards cost more than static billboards. The price range for advertising is from $1700 to $6400 in some locations and $10,000 to $20,000 in some other busy locations.
Do billboards work for advertising?
Billboard advertising is one of the most effective means of outdoor advertising, which is why companies and big brands continue to target their audiences through this advertising medium. It has been used to increase the market for their products, launched new products, and new brands; and increased brand awareness. Our clients have experienced visibility and massive sales through billboard advertising.
How do I advertise my billboard advertising?
To promote your billboard, you can place an ad with your phone number on the billboard to indicate that the space is available, especially if your billboard is in a strategic location. You can also send offers to potential customers and advertise through your social media platforms like Instagram.
How profitable is owning a billboard?
Businesses generate as much as 40% to 50% of their revenue before factoring in depreciation, taxes, amortization, and interest. Some billboards, especially those on highways, can generate more than the stated percentage of revenue. Billboards have actually provided a huge influx of money to large companies. Most importantly, the location of the billboard determines the revenue it can generate.
Can anyone buy a billboard?
Yes, anyone can buy a spot on the billboard. All you have to do is contact the owners, either through the contact address listed on the billboard or through their websites and social media handles.
Is a billboard a good investment?
Studies have shown that billboards can bring the company a net profit of 20% – 30% before depreciation. They can also be sold to larger businesses if there is a need. This makes them a good investment for anyone looking to get into billboard advertising.
Are billboards worth the money?
Your target audience, your marketing budget, your products, and your goal will determine if it's worth the money. If your goal is to increase the visibility of your product or brand, then it's a good way to go.
How long should a billboard be up?
It's usually four weeks, but your goal also determines how long your billboard will stay up. Some billboards stay up to 1 year because the brand wants to either become better known or gain more visibility so their brand sticks with their audience.
How do you make a good billboard?
Size and creative design make a good poster. The content should be simple, clear, and bold so that someone 500 yards away can see and understand it immediately. It should also give the audience an experience they will not soon forget. It can be just the product image with two words, but it should capture the mind of the audience and convey the message in a clear way.
How do I sell my digital billboard ad?
You can sell by advertising contact on your digital billboard so that anyone who wants to buy a space can contact you. You can also advertise through your social media handles.
Visit outdoors.ng to Get Started today