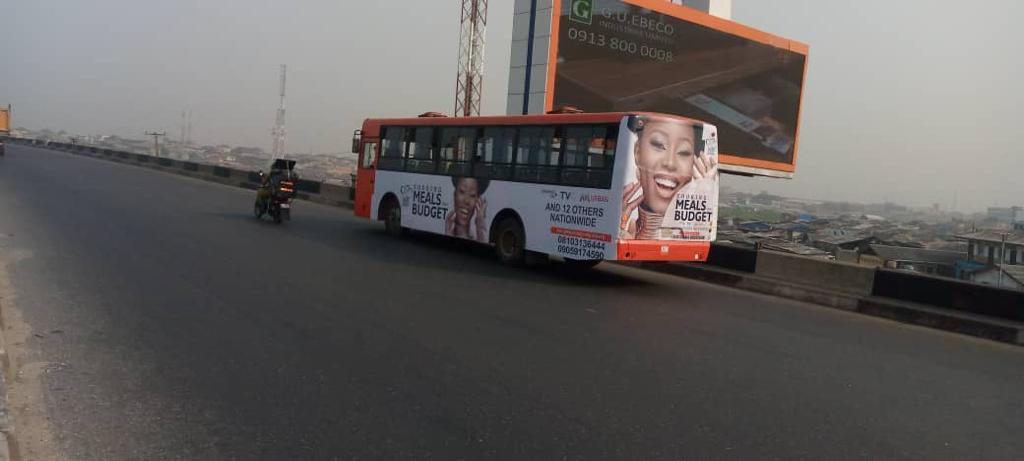 Why Brt Bus Advertising?
Do you know that over 10 million people have seen advertising on buses in the last week?
Bus advertising offers you an audience of over 10 million and they may see your ads multiple times in a day. It is popularly known as BRT advertising in Nigeria.
Bus Advertising is an effective and cost-efficient form of outdoor advertising that allows your business, product, or event to reach an urban audience
Who can you target with Bus advertising?.
Your message can circulate throughout the urban landscape and surrounding suburbs, allowing thousands of people to see your message and avoid financial wastage in areas you are not looking to target. It is an aggressive marketing strategy you can use to reposition your business, launch new products, and create top-of-the-mind awareness.
You can target all social classes depending on the route you chose. There are different BRT routes in Lagos. Some are within the mainland. Some others are from the mainland to the Island. Your ads cannot be missed as long as people take those routes.
Why Bus advertising?
Bus advertising is a good fit for both small and big businesses. You can build strong brand awareness in a short period within the town. Bus advertising is on the road for an average of 8-10 hours daily every week. It can get to residential and work areas. Bus advertising allows the audience to see the ads over and over again. It allows you to reach out to all classes of audience.
BRT Bus Advertising Routes in Lagos, Nigeria
They are grouped into Mainland and Island
The BRT routes in the mainland include
Western Avenue by Alaka/Iponri bus-stop, on Alaka/Iponri (Pedestrian Bridge) Facing traffic from Marina,Ijora
2.Stadium Bridge FTF Shitta roundabout FTT Ikorodu Road, Western Avenue
3.Iyana Ipaja – Facing traffic to Iyana Ipaja, Abule Egba, Sango-Otta
4.Dopemu Pedestrian Bridge – FTF Ikeja, Facing Traffic to Sango Otta
5.Idumota FTF Nnamdi Azikiwe
6.Oshodi FTF Agege Motor Road, Mushin, mile2
7 Ikeja. Maryland, Ikorodu road, mile2
8. Egbeda. Iyana Ipaja, sango. Agege
9. Festac. Mile2. Cms.
10. Dopemu, Ikotun, Oshodi,
BRT Bus Advertising Route on the Island
CMS, Lekki, Chevron, Ajah
• Dutse junction area 1 – Finance junction Aya, Abacha barracks, Kugbo, Karu nyanya, Maraba Masaka
• Berger – Wuse market
• Federal secretariat, Garki Market
• Area 1 – Lugbe, Gin junction, Gwagwalada
• Berger – Federal secretariat
• Mpape – Area 1
• Nyanya – Area 1
• Masaka – Wise
• Berger, Life camp – Eagle square
• Lugbe – Area 1
• Berger – Gwagalada
• Berger – Mpape
• Wuse Market – Mpaze